Hit Me Like A Brick
Today I decided to get off my lazy butt and start cleaning MY house. I've not taken very good care of it since I moved in with Mom. Being so tired all the time, I don't give my house the attention or the thorough cleaning I used to. I manage to swipe a feather duster around the corners of every room and all the shelves and knick-knacks every few weeks and mop the floor once a week, but it's not the same.
I gave both bathrooms a thorough cleaning—the down-on-my-hands-and-knees-type cleaning like I used to. I scrubbed the walls and took the shower curtain down and cleaned it. The bathrooms looked so nice when I finished that I decided to move into the bedroom and start working on it. I opened every drawer of the dressers and neatly rearranged all the clothes, cleaned the dressers with Murphy's Oil soap, and gave them a good waxing. I put clean sheets on the bed, ran the sweeper, and started the laundry.
Then, I decided to tackle the bedroom closet. When I moved to Mom's most of my clothes moved with me, but the floor of my closet was piled with clothes I've been hauling back and forth. It was time to get them out of the piles and hang them or put them in drawers. It took me 30 minutes to pull all the clothes out and set them on the bed to go through and decide where I was going to put what. There were things in that closet I knew I'd never wear so I put those items in a box to take to Good Will.
I sat on the floor of my bedroom looking at the room, clean and fresh, and felt strange looking at a bed and cleaning a room I haven't slept in for three years. That strange feeling turned to sadness as I glanced at all the wall hangings that had once been so neatly dusted and cared for. I turned my attention back to the closet as not to cry and arranged the half dozen pair of shoes on the shelf and pulled out another pile of things I had no idea what they were because I hadn't been in the closet for so long.
Still in the bag, was an Indian blanket Two and I purchased at his reservation in North Carolina when we were there four years ago. Beneath that was a pillow heat/massager that would have come in handy the past few years had I remembered I had it.
Then, below that was what hit me like a brick! It was a treasure I'll never forget nor one I'll ever get rid of. My bed caddy! What's a bed caddy and what's so great about it you ask? A bed caddy is what you keep your book, eyeglasses, TV remote, and other essentials close at hand. It tucks easily under a mattress and hangs on the side of the bed. This bed caddy is special. I made it from a pair of my dad's carpenter jeans.
After Dad died, I made one for Mom, both my sister-in-laws, and me. I'd taken it off my bed just before I moved to Mom's since I wouldn't be using it. When I pulled it out from the closet, all those strange feelings I'd had while glancing at the room boiled up inside and spilled from my eyes. I sat, on the floor of my bedroom, hugging my dad's jeans and cried. The book I was reading when I left to live with Mom was still in the pocket with a bookmark Mom made me still holding the place. The pockets also still held my body lotion, reading light, extra pair of outdated glasses, and that darn TV remote Two Feather hasn't been able to find for three years. I thought finding the TV remote would bring me to my senses when I chuckled, but the tears continued to flow. I held Dad's jeans against my chest and ran down the hall to Two's workroom, tears still streaming down my face.
"What's wrong? What's that?" he asked. Between sobs I managed the words, "My dad's jeans." The shocked look on Two's face didn't help stop the tears and neither did the bear hug he gave me when he realized what I was holding. I buried my face in his chest and sobbed, long and hard, whispering, "I miss you. I miss my dad. I miss my mom. I miss cleaning. I miss everything!"
I wiped the tears from my face, walked back to the bedroom, placed the TV remote on top of the TV, and put the bed caddy back in the closet. Two came in and asked why I didn't put the caddy back on the bed and I told him I wasn't putting it back until I could use it again.
He laughed and said, "In that case, you didn't have to change the sheets on the bed. I haven't slept in it since you left. I sleep on the couch."
It was then that I realized how difficult our separation has been for him. In these three years I had no idea that Two didn't sleep in our bed. All this time I thought he was sleeping comfortable and instead he's been stretched out on a tiny couch in our living room. He's always called it the "Joanne couch" because it's only four foot long.
It's strange how much our life has changed during this care giving journey and how little things like a bed caddy made from my dad's carpenter pants can send me to tears. Dad died of Alzheimer's and will be gone 10 years on the first full day of spring. There isn't a day goes by that I don't think of him. Losing a loved one is one of the hardest things to deal with. We caregivers tell each other it gets better, and it does eventually, but there are always those unexpected little things that take our breath away and reduce us to tears. Today, for me, it was my bed caddy and Dad's jeans. Even after 10 years. Love you, Dad. I miss you.
Mom has been sleeping better with this low dose of Seroquel. Friday, Saturday, and Sunday night she only got up twice to use the bathroom each night. YAY!! I slept pretty well on Friday night, but Saturday night I woke up five times. I think my body and mind had been so used to reacting these past three years that it doesn't know what to do when it's not called to duty—so it did what it was used to—woke up. It didn't take me long to get back to sleep once I realized that there was no need to run to Mom. Sunday morning I did feel the effects of not sleeping sound, though. I felt like I was dragging.
It was a dreary day and Mom was having a difficult time deciding what she wanted to do so I decided to pack her up in the car and go visit my Uncle Joe. I normally visit him twice a month, but with everything that's been going on lately, I hadn't been to see him since Christmas. I called him in between, but that's not the same as a personal visit.
He seems to be doing well at the nursing home. He still says the food is lousy but the nurses are good to him. We visited for a few hours and when Mom used the bathroom Joe said he'd follow us to the elevator when she came out. He looked tired and I guess he had had enough visit for one day.
When Mom and I got home, she wanted to eat and go to bed. I tried to keep her up until 5:30 but she was dozing off at the kitchen table after dinner. By the time I got her dressed for bed she was exhausted and fell right to sleep.
Monday was a nothing day. I did absolutely nothing. Guess I'm entitled to that once in a while. :D
Labels: Alzheimer's, bed caddy, care giving, carpenter jeans, Dad. Two Feather, journey, Mom, separation, sleeping
Make me smile. Leave a comment...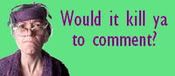 Comment Icon From
Paper Napkin