New Medication Working Good So Far
I kept Mom home from day care on Wednesday again because the driveway was solid ice after the storm. Had the driveway plowed and salted and by afternoon the sun had melted some of the ice.
By Thursday, we were on the road again and Mom went back to day care. When I picked Mom up I was told there was an incident at day care. Evidently, Mom was sitting with Mr. N. and one of the workers walked up to her and said, "You don't belong here. You need to move to another table." I was told she grabbed Mom by the shoulders and nudged her toward the other side of the room. Mom complained to the supervisor about the woman's action and supposedly the worker was reprimanded and made to apologize to my mom. I was glad they told me about it, but I wasn't happy with what happened. I felt more than a bit let down because I know the woman and I never expected her to act or treat Mom in this fashion. It must have bothered Mom because she remembered it and told me about it on the way home. She said she was glad the lady apologized and she was going to forget it for now. But if it ever happened again, she wasn't going back. I picked up Mom's new medication, Seroquel, on the way home and she took it for the first time Thursday evening. It's a low dose before bed. The doctor prescribed 25mg tablets and Mom's only suppose to take a half tablet at bedtime. She slept sound. YAY!! So did I. DOUBLE YAY!! I can't remember the last time I had two good night's sleep in a row, but it felt wonderful! That was a Valentine's gift all in itself. :)
Two and I went grocery shopping on Thursday and spent the rest of the afternoon watching Saw IV. All four of these movies were good. Of course, I'm a horror and thriller fan, so naturally I'm going to say I loved them. That was our Valentine's Day together. Watching a horror flick.
Today, when I took Mom to day care, the lady who was gruff with her on Thursday pulled up in front of the day care at the same time. She was very pleasant and held the door for Mom to walk in. She said "good morning" to Mom and Mom answered as if nothing had happened. I did say good morning and talked with her, but I didn't bother mentioning the incident. I figured the supervisor reprimanded her and I didn't need to make a big deal about it. I'm sure she knows me well enough that if anything like that happens again that I won't be as courteous the next time. She probably felt lucky that I didn't say anything this time. I can be very nasty when it comes to protecting my mom.
Today was a do nothing day. Even though I slept well the past two nights, I still feel run down so Two and I just talked all day. Mom had a good day at club and I was happy there were no reports of any kind.
Mom was extremely tired while she ate dinner. She didn't eat much again tonight. Her appetite has diminished so much. All she wanted to do was finish eating and go to bed. By 5:30 she was snoring.
Angel, (not my daughter) an old friend called my house and Two called to tell me she called. Angel and I used to pal around together in the 80s. We kept in touch for a long time and drifted apart due to life changes. I ran into her at a local store just before I moved in with Mom. She knew Mom had Alzheimer's but we hadn't seen each other or talked since so she didn't know I'd moved in with Mom three years ago. It was really good talking to her after all this time. We were best buddies back then and it didn't take but a few minutes on the phone to realize how much we'd missed talking to each other. Anyway, if you read this, Angel, thanks for calling. It was wonderful talking to you again.
I'm signing off for now. This new medication is really working wonders so I'm going to take advantage of the fact that Mom is resting peacefully. See you all soon. Joanne does a happy dance as she signs off for the night. :D
Labels: Alzheimer's, Angel, diminished appetite, jdkiggins, Mom, new medication, sleep, Two Feather
Make me smile. Leave a comment...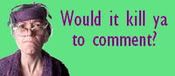 Comment Icon From
Paper Napkin