Which Witch is the Witch?
It's almost Halloween! Today reached only 44 degrees on this little mountain and I couldn't help but become a bit nostalgic about the season. I sat on the wooden step of my mom's porch and watched small tornadoes of newly fallen leaves circle and fall only to be snapped back up by the wind to circle and fall again. The crisp air slapped against my face and I smiled when I thought of the scare tactics we used to use on neighborhood children already reluctant to walk the long winding drive to a creepy house decked out in all its Halloween gore.
When my kids were young, they loved how I decorated the yard and house. I took so much pleasure in cutting plywood into ghoulish figures, painting them, and designing a yard full of displays that scared even the adults at times.
One year I'd had so many ghosts, goblins, witches, and gravestones, one didn't notice a house beyond the display. It was the witch stirring her cauldron that caught the eye of nearly every Halloween visitor. It took me three days to paint her 6' high body and gnarly green face. When she was finished, I placed my dad's old chicken boiling kettle beneath her broom handle and it made the perfect cauldron. The spooky-shaped trees casting shadows over her green face added to the adrenaline rush that kids would get when they'd see her at a distance from the long dark drive.
Yes, I remember the days my kids' friends came trick-or-treating just to see the witch. I can still hear the blood curdling screams they'd made when I'd jump out from behind the witch.


Join the Halloween Story Festival and tell us your favorite Halloween memory.

Use this tag (add <> opening and closing tags at the beginning and end.
< href="http://technorati.com/tag/HalloweenStoryFestival" rel="tag">Halloween Story Festival

Halloween Story Festival,
Halloween,Ghosts, Goblins, Ghouls, Gore, Gravestones, jdkiggins
Make me smile. Leave a comment...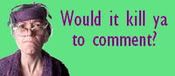 Comment Icon From
Paper Napkin