Without Hope There Is No Life - Week 5 Idol Entry
Without Hope There Is No Life
by Joanne D. Kiggins


I sit exhausted staring at the full moon smiling down at me through the window of the room that was mine as a child. I feel like that child again; gently tiptoeing around all the old familiar creaks in the floor so Mom won't hear me. The days are full of nurses, therapy, medicines, inhalers, cooking, cleaning, loud television shows and repeated conversations about my mom's childhood and mine. It's only in the late night hours after she's in bed and quiet early morning before she's awake when I can do what I love most—write.

Writing has never been difficult for me. Until now. Now, it's difficult to concentrate. I find myself reminiscing; thinking how I tried so hard to get my first manuscript published so my parents could see my name on a book. Getting my book published was never about the money and my parents have seen my name in print numerous times. It was about seeing the glint in my dad's eye when I'd done something to make him proud. A glint that always beamed, "That's my daughter." It was about seeing the smile on my mom's face and feeling her arms wrap around me with love and pride.

I wrote the dedication first: To my parents, who have always been there for me. Thank you for giving me life.

When my dad passed away, I changed the dedication to: For my dad, who didn't live to see it published; and for my mom, who did.

Because I knew I was running out of time, I began a final edit on my manuscript in September 2004; pushing myself to get at least five to ten pages edited a day in between trips to Mom's house to take her meals. I didn't begin that edit soon enough. I anticipated moving in with Mom one day, but I didn't expect it would come as quickly as it did.

As I sit here staring at the moon smiling at me, I cry because I miss my home, my companion, my dog, and my life. Then I realized this is my life; a life centered around my parents, as theirs had been centered around me.

My name will not be on a book anytime soon and I'm fine with that. My parents won't purchase it and I won't see the glint in my dad's eye or receive that warm loving hug of pride from my mom. TIME GOES ON will be in print one day, but now, life is more important.

I selfishly cherish this time with Mom, and selfishly continue to grab each spare moment to write, because I trust my parents will help celebrate my accomplishments, even if it is from up above.
Make me smile. Leave a comment...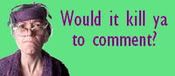 Comment Icon From
Paper Napkin