When It Rains, It Pours
This post was held in queue.
Thursday, February 21
As I said in prior postings, Mom's doctor took her off trazodone because the increased dosage resulted in her getting one of the side effects of the drug or an allergic reaction—itching. She scratched and scratched until she scratched her skin sore, and in places broke the skin. She had a bout with dermatitis last year, so her doctor recommended I apply lotion a few times a day. I've been applying lotion on her entire body everyday ever since, but with this itching, I've been applying it more often. The few places she had scratched raw were healing nicely and she had very few spots compared to what she'd had before. The spots were on her forearms, between and just below the clavicle bone, and on the back of her hand, and a few on her cheek.
I told the day care facility more than a week ago that Mom had the itching side effect or allergic reaction from meds.. Symptoms of an allergic reaction include: rash, itching, etc. She started with an itch here and there once in a while and then it stopped until he increased the dosage. The itching came back and a rash started. That's when her doctor took her off trazodone and put her on seroquel. The seroquel is working wonders for Mom's sleep and mine, but the itching and slight rash is taking its good old time subsiding.
Thursday I got a call from the day care asking me to pick Mom up. Mom was scratching her hand and the nurse noticed she had a spot / bump / rash on the top of her hand and supposedly on her belly that she suspected might be scabies. I told the nurse (who was standing in for the regular nurse and was aware of Mom's med reaction) that Mom had been itchy from a reaction to meds and she said I had to pick up Mom and have her tested for scabies. Naturally, I called Mom's doctor and asked that he fit her into his schedule that day to have her checked. The appointment was scheduled even before I picked up Mom from day care at 11:00 in the morning.
When I arrived at the day care, I said I had an appointment at 3:15 and they were shocked I was able to get her in so quickly. They told me they called the health department and I had to have Mom get a skin test and she wasn't allowed to return until they had proof of the skin test from the doctor. Then I asked if anyone else was sent home with this same thing, and was told "yes, one other person." Okay, no problem. I at least knew to tell Mom's doctor that two people were sent home due to a "rash" and to be extra cautious with a diagnosis.
From my extensive reading over the years, I did know a few things about scabies. Yes, it does show in the form of a rash; it is an infestation of the skin caused by mites; it is contagious; and it is usually spread by personal close skin-to-skin contact between people in child-care facilities, nursing homes, and by sharing the same bed or clothes. I also knew that scabies normally appears in creases of the skin, between fingers, genital areas—none of the areas where Mom's bumps are—with the exception of the small bump on the back of her hand between the knuckles of her ring and little finger.
I had nearly four hours to waste before Mom's appointment, so being the conscientious person I am, I took her home, and sat her in the living room. First, I went upstairs and grabbed my magnifying glass and went back downstairs. Mom probably thought I was nuts when I took off her sweatshirt and began examining her forearms with the magnifying glass. I asked her to turn her head this way and that and checked the "bumps" on her cheeks, then got in close and looked at the "spots" on her hand. After inspecting Mom from head to foot, finding nothing that looked like these pesky little mites or tunnel-looking areas on her skin, I figured I'd take precautions anyway and ripped the sheets off her bed, threw them in the washer with the hottest water setting, added detergent and Clorox and disinfected her bed. Then, I went straight to the computer to research this nasty little parasitic monster that might have found its way into my mom's skin.
The website for the
PA Department of Health
states that scabies is "pimple-like irritations, burrows or rash of the skin, especially the webbing between the fingers; the skin folds on the wrist, elbow, or knee; the penis, the breast, or shoulder blades."
Other sources also mention scabies can be found "on the sides of fingers, armpits, inner thighs and around the waist (belt line)."
According to all the websites I checked (nearly a dozen), all the information I read and pictures I found, I felt confident that whatever it is making Mom itchy and causing her to scratch—it is not scabies. None of Mom's bumps are in any of these areas and none of her rash-like bumps looked anything like the pictures on the websites.
Off to the doctor we went anyway armed with all the information I never really wanted to know about this little parasitic infectious skin irritation.
Mom's appointment went well. I told her doctor that the day care said they wanted a skin test and she couldn't return until they received written documentation of the test and he cleared her to return. He looked at the small bumps on her forearms and shook his head "no". He said, "it's highly unlikely that she has scabies and it doesn't form on the face." He looked at her clavicle area and said it looked like the dermatitis she had last year. Then, he said, "I'm not going to test her for scabies. It takes longer to get the test results than it does to treat it. So I'm just going to treat her for it."
"So we don't know if she has it or not?" I asked.
He said, "She's had this itching and bumps for a while. As close as you are with your mom, if she had scabies, you'd have it by now, too. You're not showing any signs of itching or rash."
"No," I said. "I don't have a mark on me, and I wasn't itchy until we started talking about this. I already washed her bedding before I came here."
He laughed and I did, too.
"You realize scabies doesn't mean a person or their surroundings are dirty, right?"
I said, "Yes, I know that. It's just the old-fashioned ideas of scabies bother me, and I'm not real thrilled with having to be treated for something I know I don't have."
"Yes, I understand," he said. "Everyone acts like it's a big epidemic and gets so alarmed by the word, but it's really quite a common thing." Then, he said, "It's very evident that you take very good care of your mother, Joanne. Knowing you, and seeing the report from the social worker who went to your mom's house when you wouldn't place her in rehab several months ago, you wouldn't need to worry about it anyway. They noted that you kept your mom's house spotless."
He added, "If it hadn't been that you said another person was sent home with a rash, I wouldn't treat her, but we'll treat this as if it were scabies just to protect your mom and you. I'll write a prescription enough for both of you. You treat yourself as well. As long as it's treated, she's not contagious and if the day care were open on weekends, she could return by Saturday."
I reminded him that the day care wouldn't allow her return without the test. Mom's doctor is well known in our area for working with nursing home residents. He said, "When there's one person diagnosed with scabies in our facilities we treat that person and everyone on the floor just as a precaution, including the staff. The day care can't stop your mom from returning if she's been treated. A person who has been treated is non-infectious to others on the day after treatment." He added, "I'll write a note that she's been treated and is non-contagious. If that's not good enough for them, you tell them call me directly."
He wrote a prescription for Permethrin, enough for two people, and wrote a note on his prescription pad that Mom was treated for scabies, was non-contagious, and he wrote on his prescription note that the day care should alert their clients and suggested they and the day care workers in contact with Mom be treated as well.
He handed me the prescription and said, "If this is scabies, this will stop the itching in a day or so. If the itching doesn't go away, call me and we'll get your mom set up with a dermatologist."
I thanked him for fitting Mom in between patients. I stopped at the day care and gave them the note from the doctor and said Mom would be back on Monday. I was told that the doctor's note on the prescription might be a problem. They said, "We were told to tell you that she had to have the test, we have to have proof of the test, and she can't return until then."
I said, "Mom's doctor said it takes less time to treat the supposed problem than it does to get the test. By Monday she'll have been treated and non-contagious. If treatment and his note aren't sufficient for your nurse, she can call him directly. We'll see you Monday."
Mom and I stopped at the pharmacy to pick up the medication and went home to dowse ourselves in Permethrin.
Oh joy! Are we having fun yet?
Labels: Adult Day Care, itching, jdkiggins, Mom, non-contagious, permethrin, rash, scabies, seroquel, skin test, trazodone
Make me smile. Leave a comment...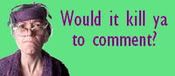 Comment Icon From
Paper Napkin