Errands, Lunch Out & Ticket Waived. YAY!!
Friday, August 31, 2007
Today was errand day. First, Two Feather and I went to pick up Mom's prescriptions at the drug store, then we stopped at the grocery store and picked up a few things (for both our house and Mom's) we couldn't live without until Monday, and then we decided to go out for lunch. We went to Kentucky Fried Chicken. That was a real treat. Of course we had leftovers because both of us have eyes bigger than our stomachs and neither of our appetites have been very good lately. Looks like he doesn't have to cook for himself again tonight. He gets to eat the leftovers.
Just before I left to pick up Mom at the Day Care, the Chief called me and told me he would waive the ticket. He said that there have been so many complaints about residents not moving their cars that the ticketing officers write the tickets regardless of the situation. He did say that he wished they had used a little discretion with this.
Since this is a holiday weekend, he told me to bring the ticket into the office on Tuesday and he'd take care of it.
I thanked him and told him I would see him Tuesday.
Labels: Errands, jdkiggins, Lunch Out, Ticket Waived
Make me smile. Leave a comment...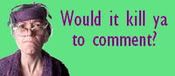 Comment Icon From
Paper Napkin